Business
Operating and Managing
the radiko Distribution Platform
The radiko distribution platform compiles content from the various participating stations, and Media Platform Lab conducts centralized management of the platform in order to handle the greater sophistication of the system as the number of radiko member stations increases. By doing so, we are able to efficiently provide stable distribution for radiko and thus create an environment in which users can pleasantly enjoy radiko with peace of mind.

Developing New radiko Businesses
Using the radiko customer base of more than 7 million unique monthly users, 90+ participating stations, our distribution environment, and ICT, Media Platform Lab develops new services for not only listeners but also stations that use the platform.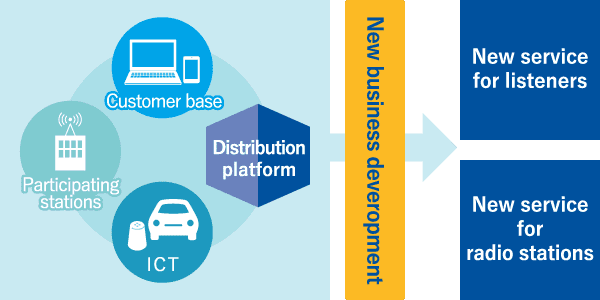 Designing and Developing New Technologies for the Next-Generation Media Platform
Media Platform Lab leverages the operating know-how it has acquired from distributing content to more than 7 million unique monthly users and the 90+ radiko member stations to design and develop the next-generation media platform that various companies can use. We will also provide the technologies and know-how we have acquired by developing new businesses to numerous companies.